Zachary's Love of Spinning...
Note: Right mouse click on the image below and select "View Image" to enlarge these pictures and see the "very real story they are telling"...make sure you read notes below pictures, too!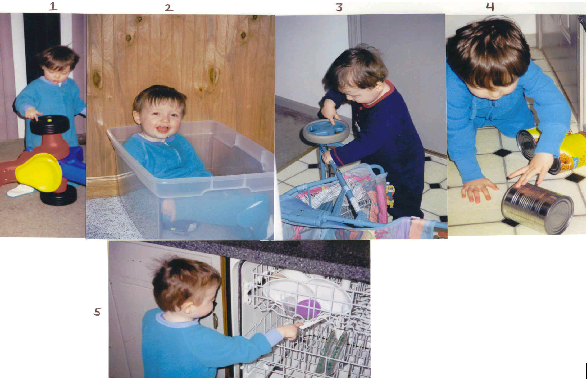 Zachary loved to spin everything...he'd flip over his tricycle to spin the wheels, flip over his cars to spin the wheels, flip over the stroller to spin the wheels, roll up to 30 food cans along the floor (and remove labels from cans because "they didn't belong" there), spin the water apparatus in the dishwasher...he'd spin anything. When he couldn't physically find something to spin, he'd pretend to be spinning something with his finger "in the air" or on my cheek. He also loved to look at ceiling fans spin around.
UPDATE POSTED MAY 2005:
As I come to learn more about the issue of spinning, I truly think there is more going on here than just "visual stims"... and I can not help but wonder if "spinning" may have both positives and negatives associated with it.
The negatives... it can certainly contribute to obsessive-compulsive behavior in my opinion if allowed to continue without supervision/time limits, etc. The more one does something... the more one may want to do it... there are certainly issues with the frontal and temporal lobes in these children and damage to the frontal lobe is certainly associated with obsessive-compulsive behavior.
Does that mean "all spinning is bad"? I don't think so. The more I think about this issue and how truly fascinating the human brain really is, I can not help but wonder if spinning may actually play a beneficial role in these children also. Why do I say that?
The frontal lobe is tied to motor functions (something that would certainly be involved in spinning) as well as with motor planning and execution. Again... damage to this part of the brain is known to result in obsessive-compulsive behavior...but... this is also the part of the brain that is involved in speech production, control of emotions, higher thought processes, etc... and these are all functions that all very much appear to be impacted by the cerebellum (at the back of the brain)...one of the parts of the brain known to be among the most impacted in autism. So... could an activity such as spinning be helping to produce new neural connections between the frontal lobe and the cerebellum... a part of the brain now known to be involved not only in motor coordination, but possibly in the coordination of emotions, language and higher thought processes? If indeed this were true, then "spinning" may actually have "a purpose"...
Thus... parents need to "weigh" the good and the bad... and if they choose to allow spinning, I am very much of the opinion that it must be limited in terms of "how much" is allowed so that it does not become "obsessive-compulsive behavior"... personally, I now allow some... but I would not allow my child to "spin at will incessantly"... the fact that a child "craves" spinning... does not necessarily make it all good... but neither does it make it all bad. Drug addicts "crave drugs" but we don't give them drugs just because they crave them. However, when it comes to "spinning" in autism... personally, I just don't think we understand enough of the human brain to necessarily say it is "all bad"... that perhaps "some is good"... but too much, in my opinion, could easily become very, very, very, very bad...definitely something I see as a "double-edged sword".
I went back and forth on this issue of spinning so many times... wondering if I should allow it or just prevent it completely. I do think it acts as a "stress relief" for my son - to this day - although he does not spin nearly as much as he used to and a simple "stop spinning" is now enough to make him stop... but, truly... why is it this particular activity that so many of these children do? Could there indeed be a plus side to spinning if indeed it may help with the rebuilding of connectivity between the cerebellum (at the back of the brain) and the many functions associated with the cerebellum that are located in the frontal lobes (speech production, motor functions, control of emotions, higher thought processes, etc.). Truly, spinning in the child with autism, in my opinion, is a fascinating subject indeed and one that may unlock many other mysteries if solved!
Refer also to the following links for more on "spinning" from other books I have written...
Coping Mechanisms (see book 2)
Brain Overview (see also book 2, 3, and 4 - read entire section to best understand the issue here)
For more on the issue of Spinning in Autism: http://www.haciendapub.com/comm21.html
This particular article (link above) talks about how children with autism who spin seem to get lost in this "infinite loop" much as we would see in computer programs...
Well... I don't know that I particularly agree with this analogy... in terms of "what may be going on"... the human brain is much, much more complicated than any computer program... there are literally thousands of connections tied to just one neuron and so... I don't think it would be beyond the capability of the human brain to "find a way out of the loop"... I think the fact that the human brain seems to have other sections "take over" for certain functions when there is trauma is evidence of that...
The thing that is interesting, however, is that the "idea" of a loop is most appropriate, in my opinion, because the cerebellum is a major coordination center for motor activity... and the cerebellum is AT THE BACK of the brain... while motor functions are AT THE FRONT... so... could spinning not provide a way of helping to "rebuild a loop of communication" that may have been destroyed by metal toxicity? I think this may very well play into this.
Note that the cerebellum is also involved in the tracking of moving objects ( http://www.wayfinding.net/cerebell.htm ) and in eye-hand coordination, etc., so, again, if that is the case, could spinning not be a way to help rebuild broken connections via a "use it or lose it" approach... the brain is very much like a muscle... the more we use it... the more connectivity is appears to form... and as such... spinning may be a way of rebuilding some of those connections between the cerebellum (absolutely known to be impacted in autism) and the frontal lobe (that part of the brain containing many functions that very much appear to be "coordinated" by the cerebellum - motor functions, and possibly also higher thought processes, emotions and speech, http://www.ircs.upenn.edu/cogsci2000/PRCDNGS/SPRCDNGS/SYMPOSIA/NEWTON.PDF , also refer to "Book 3" posted in full on this website for more on this issue of the cerebellum)...
Also, I can not help but wonder how much things like "spinning" are contributing to the compacting of cells noted in the cerebellum of children with autism...
So...again... when it comes to spinning in autism... perhaps we see so much of "this particular activity" in so many children with autism because it may actually serve a purpose... and as such, I think when it comes to "spinning in autism", there may be a lot more there than meets the eye!