The Children Of Autism... Helping Adults Understand The Issues... The Challenges... The Lies... The Facts...
The 4 books I have written are all provided IN FULL on this website... anyone with an interest in these issues can download them or read them online for free. I would urge you to read these in "reverse order" if you are are trying to "get up to speed" fast on the issues. If I had to recommend 1 book to read first, it would be "Book 3"... that one truly gets into "the issues". The paper I wrote on Redefining The Role of Insulin is also a "must read" for all persons who have an interest in these issues... this paper goes way beyond "insulin" and will help you understand many, many of the issues at play here... like B6, epilepsy, the role of prenatal vitamins, and on and on and on...
There is much, much more on this website... so start with the above... and then return to the Home Page to learn even more...
This site was created to help families save time as they try to understand the issues. I wanted to create a site that provided a lot of information in one place... because we shouldn't all have to start "from scratch" in trying to understand the behaviors, the issues, the players, the politics, and most important of all... the children.
Everything I did, I originally did for my son, Zachary... and the more I learned from him... and because of him... the more I knew I had to share this information with other families... Zachary has been a huge blessing in my life... and I suspect his journey with autism will help many, many other families understand many, many, many issues as well... issues "the experts" keep telling us "they don't understand"... issues so many "experts" are quite frankly still so totally blind to... issues that can often so easily be explained when examined from a brain structure and function perspective... issues that make so much sense... when looked at from the child's perspective! It was through carefully listening to every utterance my son made... and watching his every move... that I came to understand so much about autism... and came to understand how pretty well everything I saw in my son... made so much sense... once I saw it for what it was...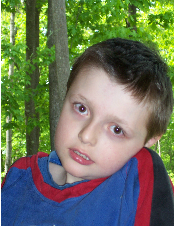 Zachary at age 7... June 2005
It is for my son, Zachary, and the many other victims of metal toxicity that I will continue to research these issues... and freely share my findings and experiences with other families, in the hope that many other children and their families will also benefit from this information.
These works, we give you for the glory of our Lord and Savior, Jesus Christ, for it is He who not only helped us to understand and address the issues, but has provided tremendous hope for us.